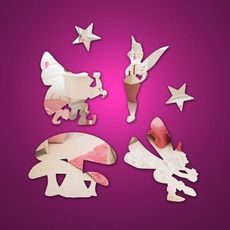 Mirror - Fairy set
3 - 10 cm (pack of 6)
Flower fairies or fairy princesses will love these magical fairyland mirrors which include a fairy, goblins, toadstool and stars and are perfect for a little girl's nursery or bedroom.
Mirrors provide a grown up element to a childs room but these fairyland mirrors are a perfectly unusual creation to give as a gift.
All products are supplied with adhesive pads and instructions for use.
NOTE: All products have a protective film covering the surface. See instructions for use