How to Baby and Toddler-Proof a Caravan: Making Your Home on Wheels Child-Friendly
Posted on
Caravanning is a fantastic way to explore the world with your family, especially when you have little ones. However, ensuring the safety and comfort of your baby or toddler in a caravan requires some careful planning and modifications. In our latest blog post, we'll discuss how to baby and toddler-proof a caravan and share some tips on making it child-friendly. By taking these steps, you can embark on unforgettable family adventures while keeping your little explorers safe and happy.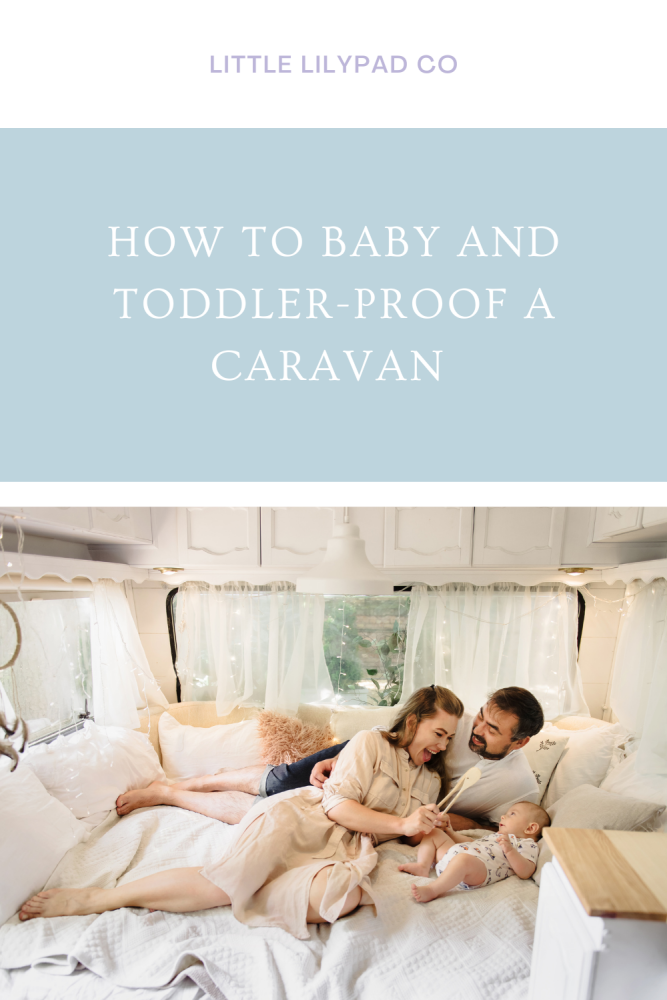 Secure the Furniture
Caravans often come with various pieces of furniture that can pose safety hazards to babies and toddlers. Start by securing any freestanding items such as tables and chairs. You can use furniture straps or brackets to anchor them to the floor or walls, preventing them from tipping over.
Additionally, consider adding corner protectors to sharp edges and corners of furniture to reduce the risk of injuries. Babies and toddlers are prone to bumps and falls, so taking these precautions is essential.
Install Safety Gates
Safety gates are a must when traveling with young children in a caravan. Use them to block off staircases or entryways to areas that are not baby-proofed. It's crucial to select gates that are adjustable and designed for the specific width of your caravan's doorways or openings.
Childproof the Kitchen
The kitchen in your caravan can be a potential danger zone for curious toddlers. Here's how to childproof it:
a. Cabinet Locks: Install cabinet locks or latches to prevent little hands from accessing sharp objects, chemicals, or breakable items.
b. Oven and Stove Guards: Consider using oven and stove guards to keep your child from accidentally turning on the burners or touching hot surfaces.
c. Fridge Locks: Use fridge locks to secure the refrigerator door. This prevents your child from opening it and accessing potentially harmful items.
Secure Windows and Doors
Caravan windows and doors should be secured to prevent accidents. Ensure that windows have locks or restrictors to prevent them from opening too wide. You can also install door handle covers or locks to keep little ones from wandering outside unsupervised.
Childproof the Bathroom
The bathroom is another area that requires special attention. Here's how to make it safer:
a. Toilet Locks: Install toilet locks to prevent your toddler from playing in the toilet bowl or potentially falling in.
b. Bathing Safety: Use non-slip bath mats and never leave your child unattended in the bathtub. Keep hot water at a safe temperature using a thermostat.
c. Medicine Cabinet Locks: If your caravan has a medicine cabinet, secure it with locks or latches to keep medications out of reach.
Electrical Safety
Caravans are equipped with electrical outlets, appliances, and cords that can be enticing to curious little ones. Here's how to ensure electrical safety:
a. Outlet Covers: Cover all electrical outlets with childproof outlet covers.
b. Cord Management: Use cord organizers or clips to secure cords out of your child's reach, preventing them from pulling on appliances or tripping over cords.
c. Unplug Appliances: When not in use, unplug small appliances and stow them safely away.
Sleep Arrangements
Creating a safe sleeping environment is crucial for your baby or toddler. If your caravan has a crib or bassinet attachment, ensure it meets safety standards and is properly secured. If not, consider using a portable travel crib or pack 'n play. Make sure the sleeping area is free from hazards, including loose bedding and toys.
Invest in Child-Friendly Gear
To make your caravan more child-friendly, consider investing in child-specific gear:
a. High Chair: A portable high chair is a convenient addition to your caravan. It provides a safe and comfortable spot for meals.
b. Travel Booster Seat: For older toddlers, a travel booster seat can be a great way to keep them secure during mealtime.
c. Portable Playpen: A portable playpen gives your child a safe space to play indoors or outdoors while you set up or pack up the caravan.
d. Baby Monitor: A baby monitor allows you to keep an eye on your child while they nap or sleep in the caravan.
Emergency and First Aid Kit
Always keep a well-stocked first aid kit in your caravan, including essential items like bandages, antiseptic wipes, and medications for common ailments. Additionally, familiarize yourself with the nearest medical facilities and emergency numbers at your destination.
Child-Friendly Entertainment
Long journeys in a caravan can be challenging for kids. Pack plenty of entertainment options to keep them occupied, such as books, toys, games, and electronic devices. Consider setting up a designated play area in the caravan to encourage creative play and keep them engaged during rest stops.
Caravan Insurance: Protecting Your Family and Investment
One often overlooked aspect of caravanning with children is having appropriate caravan insurance. Caravan insurance is crucial for safeguarding your family and your investment in the event of accidents, theft, or damage. Here are some key considerations:
a. Comprehensive Cover: Ensure your caravan insurance policy offers comprehensive coverage, including protection against accidents, theft, fire, and damage.
b. Liability Coverage: Liability coverage is essential, as it protects you in case of accidents that cause injury or property damage to others while you're on the road.
c. Contents Insurance: If you carry valuable items or personal belongings in your caravan, consider contents insurance to protect them in case of theft or damage.
d. Emergency Assistance: Look for a policy that includes emergency assistance coverage, which can be a lifesaver in case of breakdowns or accidents, especially when traveling with young children.
e. Review the Policy: Carefully review your insurance policy to understand its terms, coverage limits, deductibles, and any exclusions. Ensure it aligns with your specific needs as a family caravanner.
Traveling in a caravan with a baby or toddler can be a rewarding experience, allowing your family to bond and explore new places together. By taking the time to baby and toddler-proof your caravan and making it kid-friendly, you'll ensure a safe and enjoyable adventure for everyone. Remember that the key to successful caravanning with young children is preparation, vigilance, and flexibility, so you can relax and savor the moments spent on the road with your little ones.