What age should children learn to swim?
Posted on
Swimming is a skill that everyone ought to learn. Unfortunately, a large number of people don't know how to swim. Yet, many of them spend some of their free time or holidays near pools, water wells, dams, rivers and beaches. They are putting their life (and their childrens) in danger without even realising it.
Not knowing how to swim is like not knowing how to ride a bike. It's also one of those activities that once you learn it you never forget it. The only thing that disappears is your strength if you don't swim often enough. Swimming is a vital life skill that can save your, or someone else's life when you least expect it.
Children should be taught to swim as soon as possible. While there is no right or wrong age to teach children basic swimming strokes like freestyle or breaststroke or simply being able to float on the water, parents should make the attempt as soon as possible. There's no sense in leaving swimming lessons till your child is older if you are able to do it at an earlier stage of their life. We enjoyed years of Water Babies lessons as at this stage babies can get used to the water and become comfortable with it.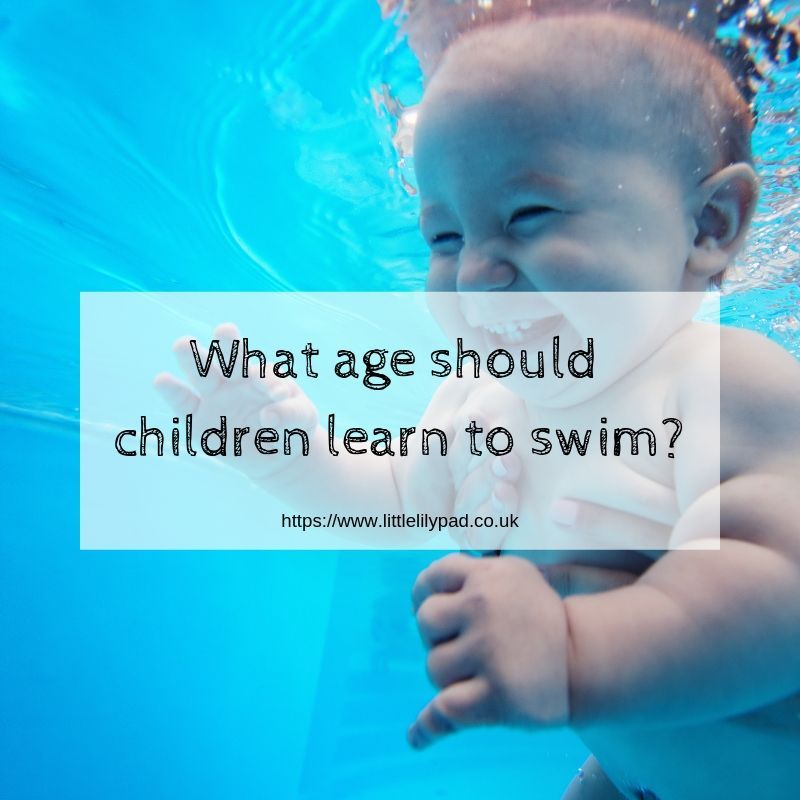 Once a child is five or six they can join a swimming squad to improve their stroke and technique. The better the technique the easier it's going to be to swim for them. You might even find that your child enjoys swimming very much and wants to stick with it and takes things further. Local clubs often have race nights which can be beneficial for children too.
Getting your children in the water as soon as possible is probably the best time for them to learn how to swim especially if you live near the water or have a pool. Swimming can be a life saving skill and you want your children to learn it quickly so that they will be able to look after themselves in the water and help someone else if necessary. Teach them to swim early and you will provide them with a skill for life that they will never forget.
Children spend 9 months in the womb completely surrounded by fluid and are not afraid of water as newborns. If a newborn baby gets water in his or her eyes they do not startle or scream. If your infant cries during a bath it is most likely from being chilly; even warm water will make them feel cold as it evaporates.
If infants are not scared of water, why are 3, 4 and 5 years olds so terrified of having water on their faces during their first round of swimming lessons? It is because they have had their whole lives to forget what it felt like to be underwater, and the unknown breeds fear. It is also because, at bath time, parents take such great care to keep water as far from babies' and young children's heads as possible, and show great anxiety if their children get even a small amount of clean water in their eyes or mouths. This anxiety teaches children that water, especially anywhere near the face, is something to fear.
So, swimming should start in infancy. Formal lessons, of course, are not necessary for newborns, but being accustomed to water as something to be enjoyed and respected is needed. If water accidentally gets in your infants eyes, don't act like it's a crisis. Your child will be fine, and you don't want to create a fear that will make learning to swim much harder later on.
Parent and Tot lessons are often offered for babies as young as 3 months of age. Again, the focus is (obviously) not on swimming by themselves, or even on "dunking" but just on getting used to the water and the swimming lesson environment. Once babies' are old enough to have some gross motor control, you can get them used to water on their face by blowing in their face (to make them hold their breath) and quickly lowering them into the water and bringing them back up. Smile and give them positive attention afterwards, and most babies will love it.
Usually children are ready for traditional lessons at the age of 3, which is when they are old enough to follow instructions from an instructor, and capable of sitting or standing still for short periods. Many 3 year olds can learn how to swim on their fronts and backs for 10 feet or longer. It is important to start swimming lessons early to give children a better chance of survival should they ever fall into water unexpectedly, or if an accident occurs during recreation.
Parents must know that swimming lessons are not a substitute for adequate supervision around the water. Children under 5 years of age do not generally have the ability to calm themselves down and recall their swimming lessons in a panic situation, but as your child gets older and more proficient in the water, the likelihood of them surviving a water incident, or being able to avoid the incident in the first place, is much, much higher.
Early swimming lessons could make all the difference when it comes to saving your child from becoming a statistic.
Tweet