Baby Annabell Learns to Swim | Review | Giveaway
Posted on
Anyone that reads our blog will have followed our Water Babies swimming adventures over the years and know how important I feel it is to learn to swim.
But what about a doll that swims? Who else could it be other than Baby Annabell!
We all know Baby Annabell as the No 1 selling doll brand in the UK so when Zapf Creations launch a new doll there is lots to be excited about. We were told that the Baby Annabell Learns To Swim doll splashes, moves her arms and legs when she comes into contact with water, and floats on her back. As always, she has cute accessories, so the little water baby includes a towel and inflatable water wings with cute sheep design
Even more exciting news was hearing that Olympian Rebecca Adlington had partnered up with Zapf Creations and Baby Annabell for this launch, so we wanted to know more!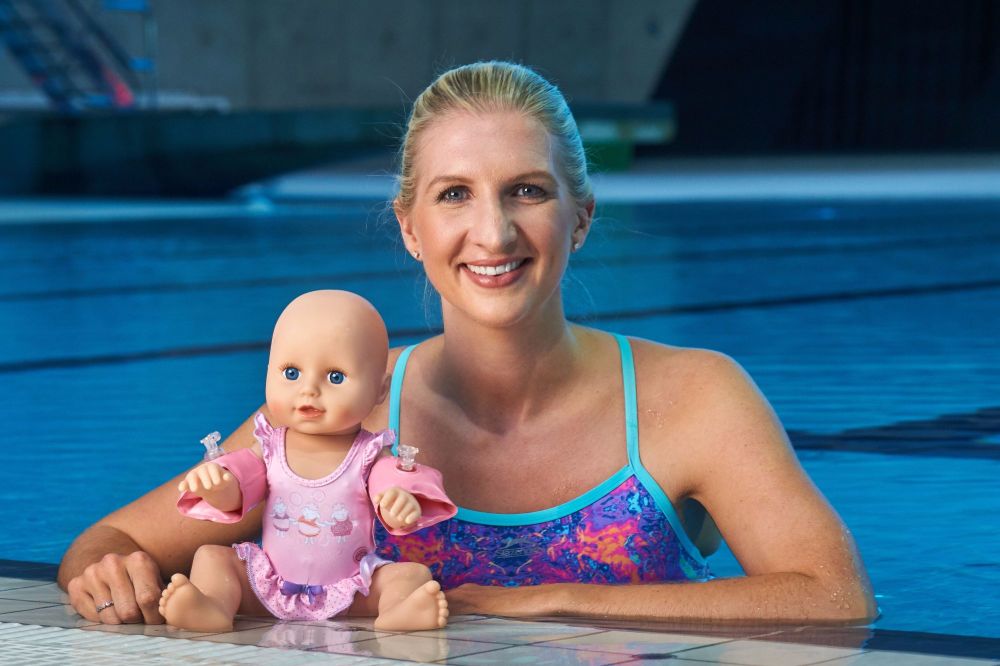 Rebecca Adlington says: "Learning to swim is an important milestone, helping to instil confidence from an early age as well as being a really fun bonding experience between a parent and child. If your little one is nervous it can be a challenging process – expect plenty of tears and tantrums, however initial fears can be overcome by slowly building confidence and trust." Whether your child is an anxious swimmer or an excited water baby, Rebecca Adlington's top tips will help turn your child into a little Olympian in no time.
Children can be initially nervous of the water, baby steps and lots of praise will help them overcome a lack of confidence. Try taking them alone to just watch for the first time, then toes in next time and so on, along with lots of positive praise to help encourage them to take that first dip.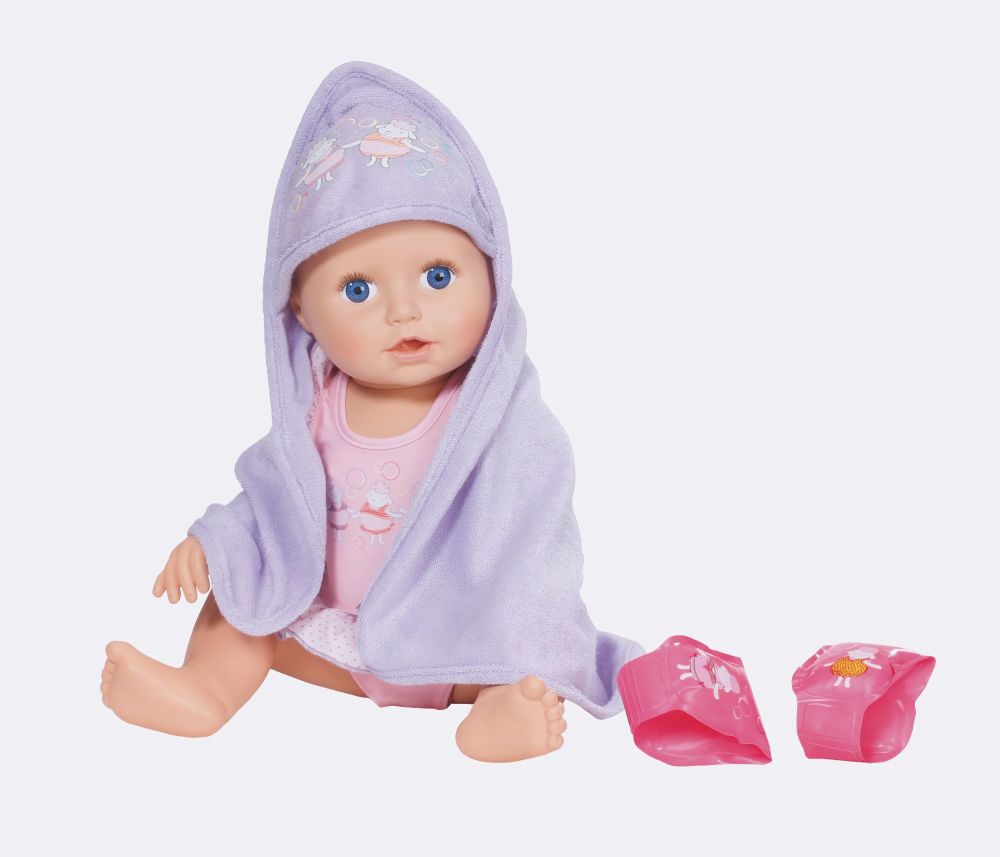 Toys are a brilliant tool, they are such a good distraction for anyone who doesn't normally like putting their face in the water or splashing. Toys such as the new Baby Annabell Learns to Swim doll are a great way to give children (and parents!) the courage to take those first steps towards swimming
Swimming is huge bonding experience. The learning process is a lot to do with trust and really builds a closer relationship between and parent and child. For this reason, try not to use your phone during lessons to avoid distractions.
The younger you start swimming lessons the better. It is all about building confidence and awareness of the water from a young age. Swimming also helps with a child's muscular development and is fantastic for understanding their physical abilities. We started our Water Babies journey when our youngest was 12 months old but we could have started so much sooner.
Make good use of the equipment that's there. Whether it's armbands, noodles, or vests, use whatever your child is more comfortable with. I tend to do five minutes with floatation equipment and five without, this helps when they're really young and still building confidence.
So how about Baby Annabell Learns to Swim, how does she fare? Well it took me a little while to realise that you have to put Baby Annabell in her 3 positions in sequential order. Just like when a child is learning to swim, they need to learn each stage. Reading the instructions before you put the doll in the bath with an expectant child is always the better option than frustratingly freestyling it.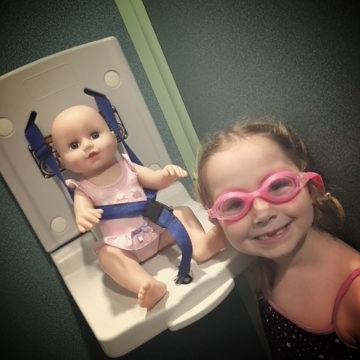 Oh and you need batteries. I repeat you need batteries. 3 x A
A batteries are needed.
So please don't buy one as a gift this Christmas and forget them. ...... a bath with a floating Annabell isn't quite as exciting as one who giggles and moves her arms and legs in the water. For obvious reasons, Baby Annabell Learns to Swim isn't going to be doing Olympic breastroke around your bath as she is clearly still only a baby (!!), but while the movements and sounds can get a little repetitive, the children are oblivious and delighted to play in the bath.
The attraction of this new Baby Annabell is quite simply that she can go in the water with your little one, whether that is the bath or the swimming pool .... fun time doesn't have to end at the edge of the bathroom or pool changing rooms. The fun has only just started!
We are therefore thrilled to be able to give our readers the chance to win a Baby Annabell Learns to Swim Doll worth £49.99 ..... just in time for Christmas. All you need to do is enter below.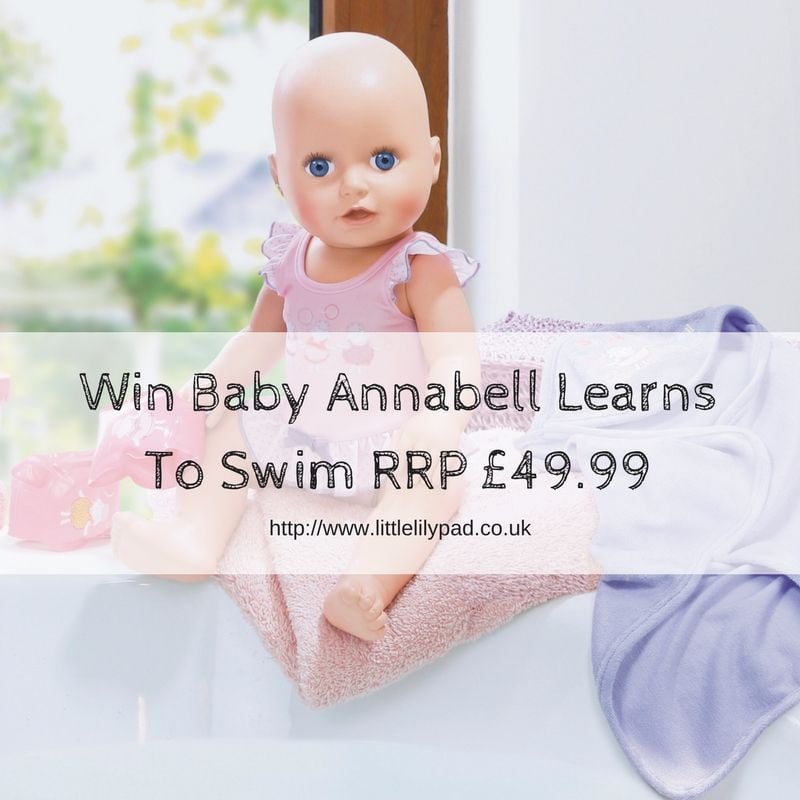 Good luck!
The Prize: Baby Annabell Learns To Swim Doll
The winners will be chosen at random by the random winner generator on Rafflecopter and notified within 7 working days by email
By entering this competition, you understand that your details may be retained for future mailings. You can unsubscribe from this mailing list at any time.
There is no monetary equivalent.
Little Lilypad Co take no /responsibility for loss or damage in the despatch of prizes
If the prize is unclaimed within 7 days we reserve the right to redraw the winner.
End Date 26/11/2017 at 12am