Learning a life skill with Water Babies
Posted on
My eldest daughter has loved the water from a young age, happily splashing around at bath times but when the subject of swimming lessons came up, she always baulked at the idea, to the point of getting ridiculously upset and as a result, teaching her to swim has been a long and somewhat laborious process. So with the little one, when the opportunity came up to go to local Water Babies classes, I literally jumped at the chance to say yes.
There are obviously lots of different baby swimming classes available but having started 10 years ago in 2002, Water Babies is the UK's leading baby swim school, teaching a core skill to hundreds of babies & children every week which can potentially save their life. The website tells you that Water Babies course is very different to traditional swimming lessons. For a start, because they only use warm water pools, babies can join classes from birth. (I wish I had known this a year ago!).
So we enrolled on the course and I was dissapointed that it was on a morning I would be unable to take her, but my mum stepped in and was delighted to get the opportunity to take the little one swimming. Admitedly on the morning of the first lesson, she was awake at 5 am (my mom not the little lady) fretting about how she was going to dry them both off after the lessons but off the went in the "happy nappy" swim shorts supplied by Water Babies. We chose the location at the Forest of Arden Hotel, where once upon a time I was a member of the gym (when I had both the spare time and money for the indulgence of a gym with spa facilities, but I digress), so I know what a fabulous location it is.
Nanny tells me that the Water Babies team were super friendly and welcoming (and hugely complimentary about the little one) but she was tired as the lesson is right when her natural sleep time is (again, my daughter, not Nanny), so we need to "encourage" an early sleep on Wednesdays in future! We have some exercises to try and get her used to having her face in the water, so bath times are huge splashing sessions which seem to get me more wet than the children at the moment. Although I am not joining the lessons each week, I am definately enjoying the benefits right in my own bathroom! Cant wait for more .....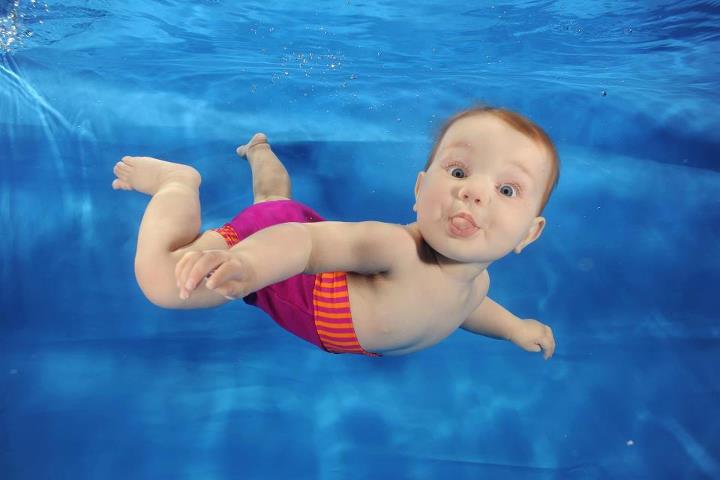 I absolutely love this photo (courtesy of Water Babies Aylesbury) and cant wait to get a picture of our own little Water Baby!