Toddler Water Wobbles
Posted on
Tweet
The holidays are officially over. Everyone is back to school and this week we returned to our Water Babies swimming lessons. We have always blogged our way through our Water Babies journey but as it is Nanny who takes the little fish to her lessons, I always miss out on the fun so I have made sure that over the holidays I have taken the time to swim with her regularly.
Now there is one thing I need to share with you, my youngest daughter is an independent little lady ( I have NO IDEA where she gets this from) and when she gets something in her head, there is not much chance of changing it. So one of our swimming sessions consisted of her jumping off the side and splashing into the water, whilst singing "humpty dumpty fell off the wall". This has done wonders for my arm muscles.
I was amazed at how confident she was in the water and kicking her legs and doggy paddling with her hands and I was a little overwhelmed with pride when another mom commented on the little ones water skills in the pool. I can't take any credit for it but that didn't stop me raving about Water Babies.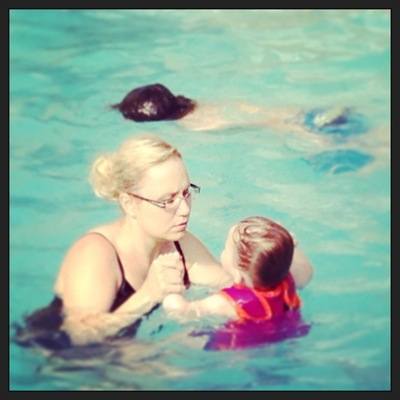 So today they went back to Water Babies and typically the little fish didn't want to go underwater, so she didn't. Her speech and comprehension has come on leaps and bounds over the past few weeks and she knows what you are talking about. So if you are talking about something she doesn't like the sound of, she will certainly vocalise it. At first I thought it maybe another of the possible "toddler water wobbles" but after the lesson she was putting her face in the water and laughing with Nanny. Lynsey the teacher caught her and chuckled at her cheekiness.
The one thing that made me chuckle was Nanny telling me that the little one had "pooed" during the lesson and as we are toilet training at the moment, there was quite alot of conversation about the poo apparently, much to my moms embarressment. Thank goodness for the Happy Nappy!!
Mom said that it was a strange start to the new term as the class had been joined with a younger group of babies. I think some of the parents felt disgruntled by this but having younger babies gave the older ones a chance to go over some of the basic techniques again, which is never a bad thing. So we embark on a new term and have a chance to make new friends, learn new techniques and find out how many ways little fish can find to be cheeky it seems!