Go Ape | Wyre Forest Review
Posted on
Conquering my fear of heights has never been a priority. You know with the whole heights and being scared bit. Not something I have ever really pushed myself to do but I set myself a list of things to do, some indulgent and some disgusting (eating Oysters is one) but conquering my fear of heights was number 17 on my list of 40 things to do in my 40th year Go Ape was the ideal choice for a family day out and a chance to tick something else off my list.
What Go Ape say about their Wyre Forest course "One of the largest semi-natural woodlands in the UK, Wyre Forest is a haven for wild animals and even wilder adventures. Reaching new heights atop our giant Douglas Firs, you'll climb, swing and zip your way through the tree tops. Go on a journey through the trees with Tree Top Adventure, 14 metres above the forest floor! Who'll be the surprise Tarzan in your group of mates? Add our Tree Top Junior course to your day out with the kids and you won't be disappointed - hero mum and dads step this way"
"Hero Mum and Dad" ......... gulp, no pressure then!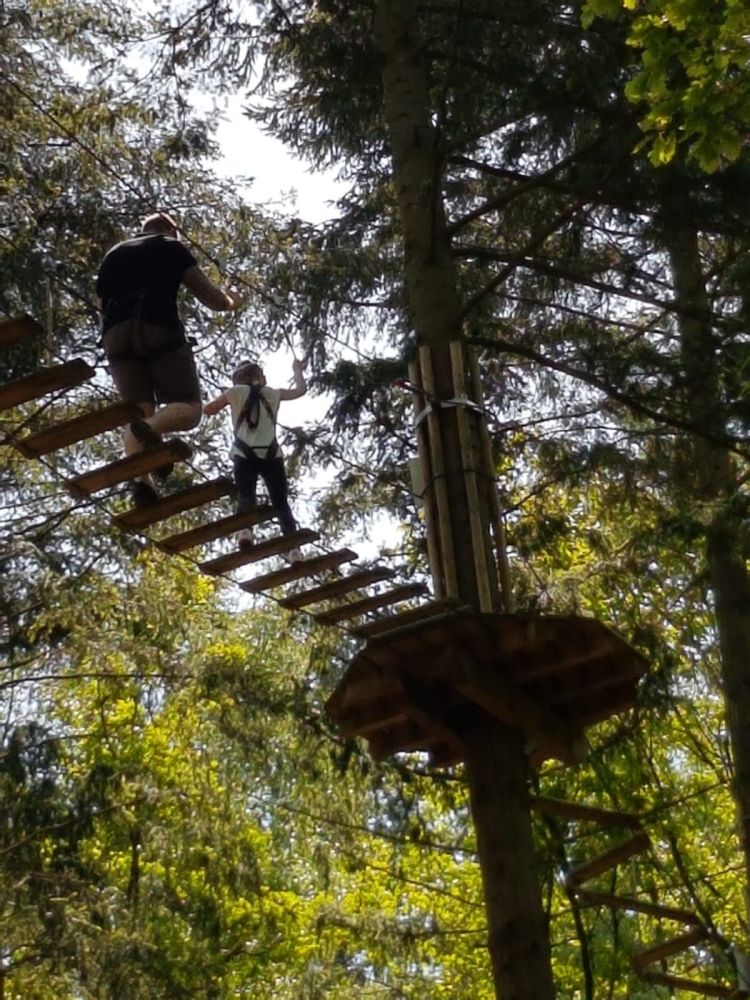 We went as a family and my husband "kindly" offered to go on the Junior Tree Top course with the 6 year old. The minimum height for this course is 1m but they have to be supervised by an adult. It is no surprise that the safety briefing is thorough (lets be honest, you are dangling through the trees, everyone needs to go through the safety briefing no matter how old you are). It is £18 per person for the Junior Tree Top course which is great value if you compare how much you can spend trying to get an adrenalin rush at a fun fair in the same amount of time. I was so proud that she gave it a go, especially when she isn't always the bravest of characters. The zip wire was a bit intimidating but she did it and was so proud of herself and the certificate she got at the end!
So if the 6 year old could do it, then surely I could?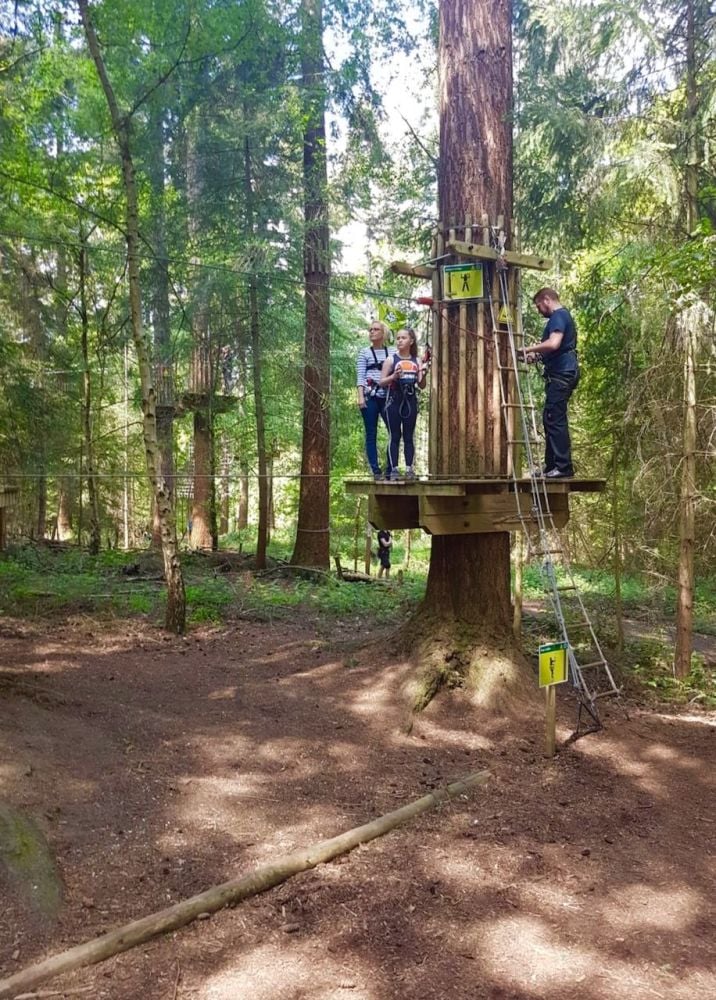 The first "tester" cable didn't look too daunting and helped to get the rhythm of which order to take your clips on and off the wires, so I was feeling pretty confident by the time we started on the main course. They anticipate it will take you about 2 hours to get round the course, so I took a deep breath and climbed (what felt like the wobbliest) ladders to the first platform. Once I was up there the adrenalin kicked in and I was ready to go.
Somehow I was the designated adult for two teens (despite them being more confident than me) but I also think that being responsible for their safety actually took my mind off being up to 14 metres in the air.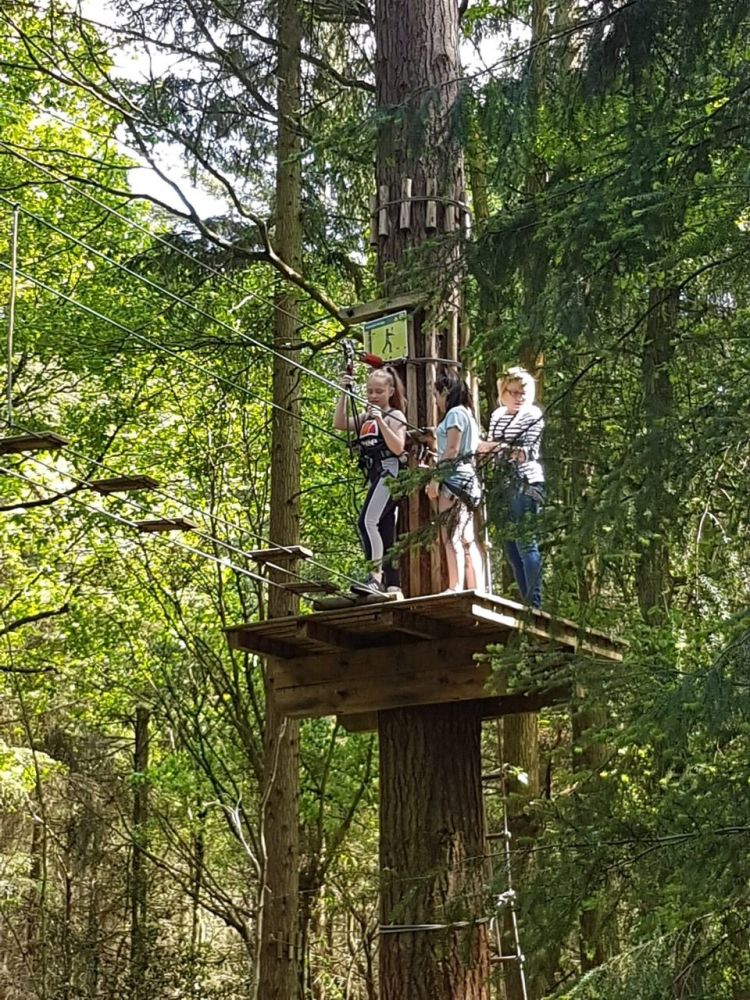 There are parts of the course that give you an easy or more difficult route and whilst I could have chosen the easy route, I figured that I may aswell embrace the whole experience, which included a tarzan swing and crawling on my hands and knees through hanging (aka wobbling) barrels. not to mention 3 zip wires.

Overall we had a total blast, it is not a walk in the park ...... think more like a challenge in the forest but that is the whole point. It costs £33 for adults which is actually cheaper than most theme parks and way more engaging. You need to be fairly fit and healthy to take on the challenge but you need more determination than deltoids, although I have to admit my body ached the day after our visit.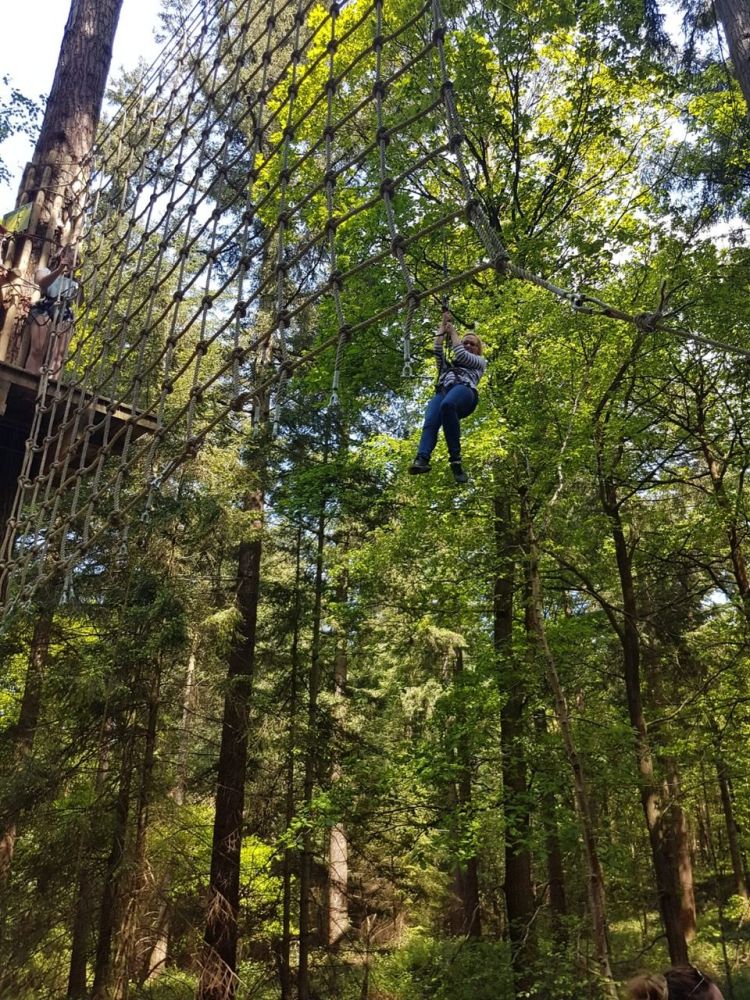 Here are my top tips for your High Wire Adventure:
Wear comfortable clothes ..... those harneses are tight!
But don't worry what you look like ...... everyone else looks exactly the same!
I managed to get some rope burns on my lower arms (probably from trying to cheat some of the course, but I digress) long sleeves may be useful
Make sure you have change for the carpark. Wyre Forest charge £3 for parking
Remember that you are attached and ENJOY!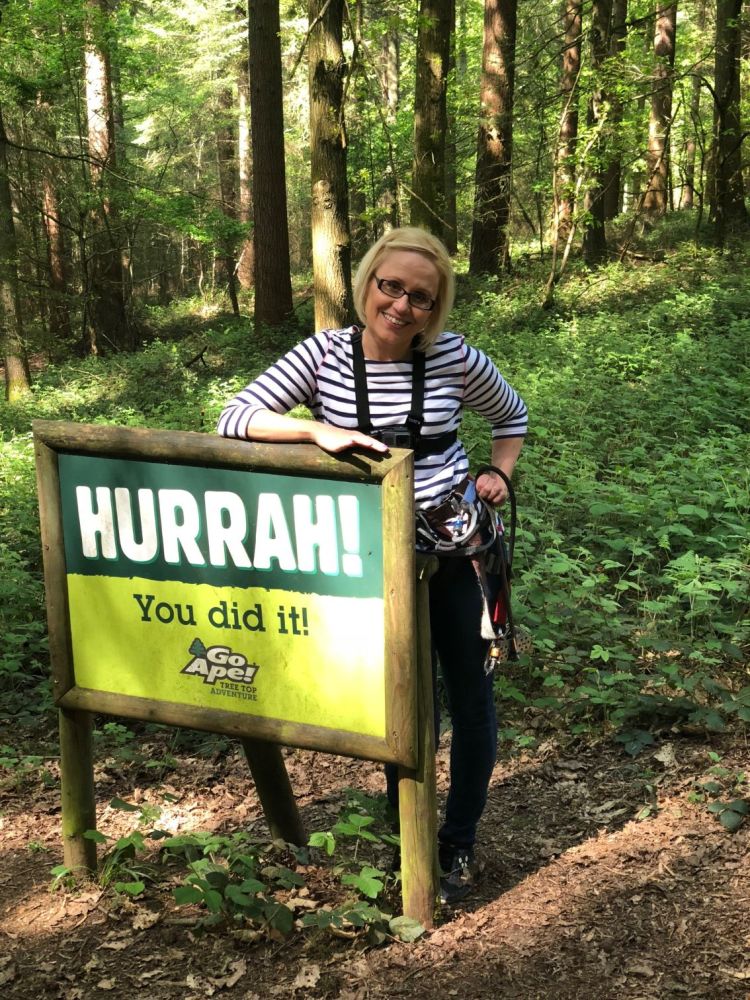 We were given the chance to go as a family to Go Ape Wyre Forest but there are a staggering 33 locations to choose from all across the country from Aberdeen all the way down to Devon. Now I have conquered the Wyre Forest challenge, I may set my sights on one of the other locations.
Consider conquering my fear of heights well and truly crossed off the list. Thank you Go Ape!!