Planning for a family day out : Top Tips
Posted on
Does the thought of a family day out fill you with excitement or dread? I love planning activities for the family and usually the most stressful part of it is actually getting out of the front door with the right number of children, car games, phones, bags, nappies, wipes, snacks .... you name it, if I haven't got it, the children want it!
As parents, finding the perfect day out that suits everyone is sometimes no mean feat, especially if like our family you have varying ages with the children, so what suits one child may not be suitable for another. We love a picnic in the park (weather permitting of course) and we can take activities that are age appropriate for everyone .... including the grown ups! Bike rides, a game of rounders, frisbee and football are fabulous entertainment for all the family but I have to admit that we are all slight adrenalin junkies in our house, so are huge fans of theme parks. Now I have to say that after an incident, circa 1991, I shall never ever set foot on a waltzer or any other ride that spins round but I love the thrill of a roller coaster. My girls take a little bit of convincing but the cost of a day out at a theme park can be expensive for a family of four ... or more!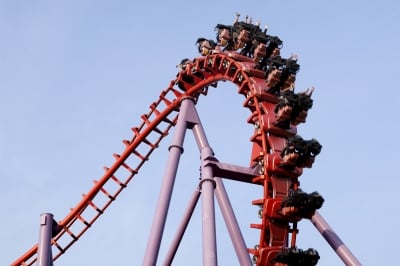 So as ever, I am always on the hunt for a good deal or a bargain, it is a running joke with my family that I never want to pay full price for anything. It isn't because I begrudge paying it but if I can save money on that, it means more money to spend on other things *insert shoes here*. Regular readers will know that I am a fan of the MyFamilyClub website and its money savings tips for parents and I found some great ideas for saving money on tickets for Thorpe Park and Legoland.
My only fear of theme parks is the vast size of them, in comparison to my tiny children, so when I went to BritmumsLive last weekend, I was super impressed to receive a sample of a Kattoo in my goody bag. They are a fabulous little invention for children who are old enough to walk (and walk off) but not old enough to remember their parents phone number. So you can pop a Kattoo (a temporary tattoo) on their arms, write your phone number with the special pen and voila!
So I am now armed with excitement, great discounts for entry and kattoo's (just incase) .... I just need to convince the children now!
Photo credit to foto76 from Freedigitalphoto