On the fifth day of Christmas my true love gave to me ....
Posted on
Tweet
..... a delicious guest post from Kelly. (still rhymes)
I'm delighted to be on Little Lily Pad today in the run up to Christmas. It's hurtling towards us at quite a pace. On the fifth day of Christmas I wanted to share a really simple Advent Activity with you that children really enjoy and that requires no baking goddessery of any kind: Snowmen Cookie decorating!
We had a playdate last week with a few friends, and Dimples requested that we decorate biscuits. I had seen a wonderful post on melted snowman biscuits which gave me an idea to work with. So we popped to the shops for various ingredients, and this is how we made them.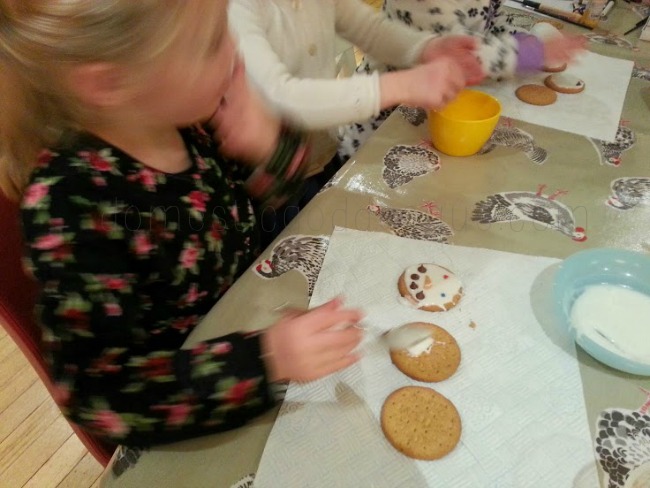 You can make biscuits, but I used shop-bought Digestives. Make a glace icing- add small amounts of milk to large sifted amounts of icing sugar and mix until thick- and spread on the top of your biscuit.
Decorate your 'snowman'.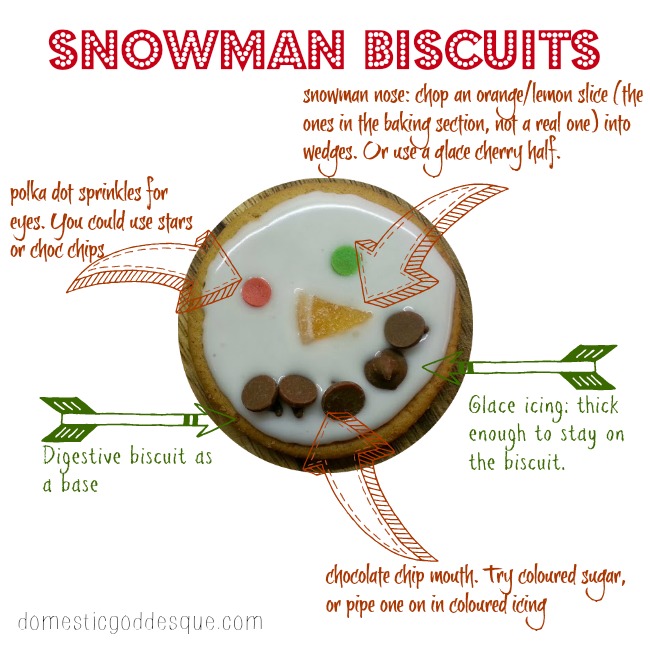 Admire your handy work. Than eat. Or in DImples case, pick off the decorations, lick off the icing and feed the remaining biscuit to the dog.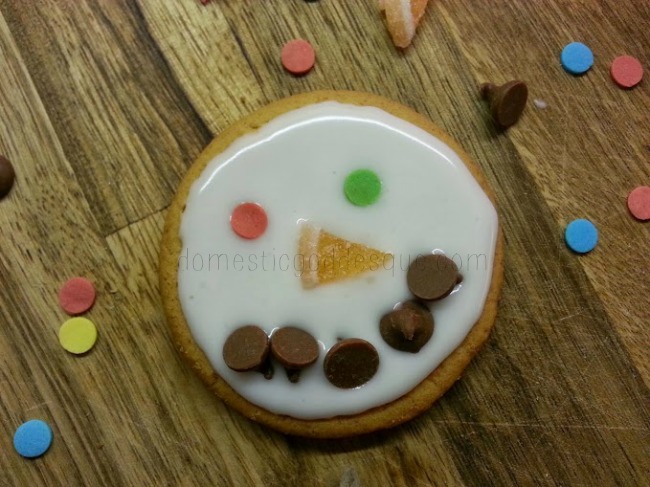 Bio: Kelly is the face behind the vintage silhouette at Domestic Goddesque. She eats too much cookie dough to have a waist that small. She is a thirty-something Mother of two absurdly photogenic little girls, is married her beloved DH and endures daily battles-of-will with the dog she refers to as the Wonder Hound. She likes to avoid housework as much as possible, preferring to bake, craft and drink cocktails. Sorry, did I say cocktails? I meant coffee. And nap. She likes to nap too. When not blogging, you can find her haunting Facebook for interesting snippets of gossip, or throwing her wit around the twittersphere. (She may have made that last bit up too: she's not that funny.)