On this day of Christmas, my Secret Santa gave to me .....
Posted on
Tweet
Secret Santa is something that happens in an office or within a close circle of friends and it is always kind of exciting to wonder who is buying for you and what you might get from "Santa" (or be a little scared that you may be getting this years "joke" gift). So what do you say when you get asked to join in with Debenhams Secret Santa ...... with a group of amazing bloggers? The correct answer is yes of course.
So what did we have to do? It was a tough job (!!) but bloggers can be a tenacious bunch and this particular group certainly rose to the task. Debenhams simply gave us £80 (yes eight zero .. how fabulous is that?) and we had to find out what our allocated blogger would like by simply reading their blog. How hard could it be?
Now lets be honest, I love buying presents but trying to select the perfect gift for someone who you don't necessarily know in real life is a challenge. That is not to say I didn't enjoy spending hours browsing round the Debenhams site looking for gifts and I "may" have bookmarked a few things for my own Christmas list but I have my fingers crossed that my "Santee" (it is a real word you know) likes the gifts I selected.
You can therefore imagine my excitement when a selection of Debenhams parcels arrived at my door. The packaging was ripped off way before I thought about taking any photographs, or indeed saving them for Christmas Day and look what I received ........
The Lilypad blog is often very focused on the girls so I was amazed that my Santee managed to get anything for me but wow wow wow! Chocolate - yes. Scarf - yes. Lancome perfume - yes. I am beginning to think I should ask my Santee to talk to my other half! (joke).
In all seriousness, I was most touched that my Secret Santa ordered gifts for my girls and despite my best intentions at hiding it from them till Christmas Day, the Tea Party Paint Set has become a permanent fixture on our kitchen table. Painting it over and over again, thank goodness you can wash the paint off and create more carnage ... oops I mean designs. I suspect I may need to get more paints before Christmas.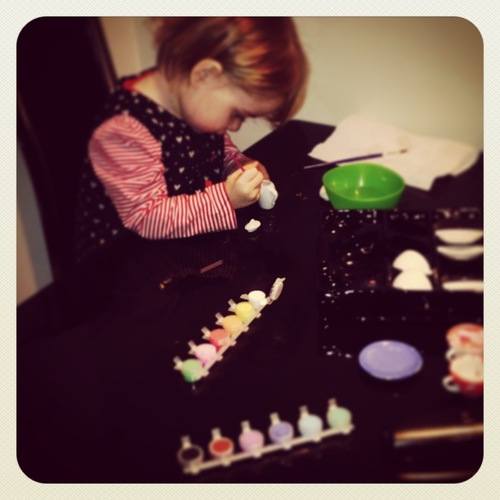 Working from home means that there are some things you miss out on (and I don't mean the office politics) but this has been an amazing opportunity, a great adventure and I wouldn't have missed it for the world.
So who do I think my Santee was? Honestly? I genuinely have absolutely no idea!!
Powered by Linky Tools
Click here to enter your link and view this Linky Tools list...
Disclosure: for the purpose of this post, Debenhams gave me £80 to spend in their online store for another blogger and I received gifts in return. All thoughts, opinions and paint covered kitchen tables are our own.