Love Is ..... Receiving chocolates in the post
Posted on
Tweet I
t is not every day that you get an email offering to send you chocolates in the post to review but as chocolate is a fairly dominant feature in my every day life (due to my small chocolate addiction), this was certainly not something I was going to turn down.
I think chocolate is a very personal thing and the first thing that struck me about Chocolates by Genevie is that in a chocolate assortment box there is an option to tailor your order for the chocolates you love the most. I do not like white chocolate, I know it is personal choice but I think that there is something very wrong with white chocolate, so loved that I could request that none were included in my selection.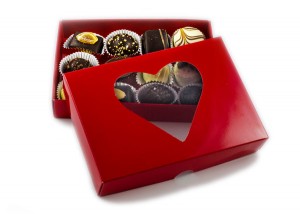 The website told me that the Red Heart 12 Chocolates, would be supplied in a classy red satin box with a heart shaped clear window (which does make it an ideal gift for valentines day!). They are also despatched in a special outer box that is letter box friendly, so when I opened the front door and saw a little box on the mat, I knew exactly what it was and couldn't wait to open it.
The box contains 12 mouth watering mixed Belgian chocolates and they were sat snugly inside the box, undamaged by their travels through the Royal Mail postal system so you could absolutely send them direct to a loved one. I picked a moment when I knew I wasn't going to have to share MY chocolates with small children (obviously for the sake of their teeth) but I have to say that they are definately chocolates for grown up's. They are delightfully rich and indulgent and with a higher cocoa content, with less sugar, you are most definately experiencing a premium taste sensation.
With different colours and shapes of boxes, there is a style to suit everyone, so sending Chocolates by Genevie doesn't just have to be for valentines and sending chocolates for no reason, would show what "Love Is ....."