We want to go to Peppa Pig World
Posted on
Tweet
I have a lasting memory from my childhood, when the Simpsons was new on the televsion and Bart and Lisa kept chanting "can you take us to Mount Splashmore, can you take us to Mount Splashmore, can you take us to Mount Splashmore" to Homer until he eventually caved in and agreed to take them! Fast forward 20 years (or so) and whilst the Simpsons are as funny as ever, the character that rules in our house is Peppa Pig, so where do my girls want to go ......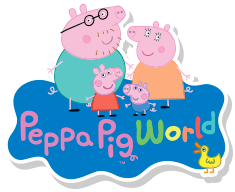 Now Peppa Pig appears to have become an icon to the toddlers of the world, coming out with jems such as:
Peppa: We're trying to run away from our shadows.
Suzy Sheep: You can't run away from your shadow. You need a scooter.
And this is without the pure genius that is Daddy Pig;
Daddy Pig: [when reading something he doesn't understand] Hmmm... It's no good. It's nonsense.
What isn't nonesense however is the girls desire to go to Paultons Park and experience Peppa Pig World for themselves, unfortunately for me it isn't a 5 minute drive away, so we would need to stay overnight. Thankfully after scouring the internet, there are some great deals to be had, the best one I found was at:
As a family of four, we always go in search of the best deal and this one includes:
One day entry to Peppa Pig World in Paulton's Park
Overnight Stay in one of their Family Rooms
Award Winning English Breakfast
You can also upgrade this package to add some more extras like Peppa Pig bedding for the children, a hot chocolate before bedtime and a DVD player in your room.
The only problem now is when my girls start to chant "are we nearly there yet?"
This is a collaborative post with Peppa Pig World and Holiday Inn but the excited two year old is all our own!