A child's room is so much more than a place to sleep
Posted on
Tweet
I love to sleep. As a mum to two girls, I never seem to get enough sleep, I never want to get out of my bed in the morning from the room that is my haven but a child's room is so much more than a place to sleep. Far more than for most grown-ups, it's a place they spend a lot of their waking hours, telling stories, creating adventures, building dens and having fun.
So what do you do when you decide it needs redecorting? You have to think about the times they're going to play, read, draw and colour in there and as they get older, it's bound to be where they'll do a lot of their homework too. (I am clearly living in hope that the challenge of physically getting them to do their homework is not too much of a mission)
The secret interior designer (or just the sleepy mum) that is trapped inside me thinks that the key piece of furniture in a child's bedroom is the bed, and that's the best place to start when you're planning out how to furnish and decorate your child's room. Children's beds today come in a massive range of styles and sizes and the one you'll choose will depend on the size of the room and how old your child is. Great companies like GLTC have a fabulous range of children's beds and mattresses from GLTC and this is a good first stop resource for families like us.
I love the idea of a cabin bed, as it can be a great space-saver choice and the underneath can either be used as a desk, or as storage space for clothes. Some cabin beds have tent style play areas below them too, although I am not sure there would be much sleeping going on with my daughters in this kind of bed.
Children's bedroom furniture can be expensive, so it may be worth considering choosing a timeless classic style for the furniture, and then giving the room a fresh look with new accessories every couple of years – when your child's tastes change. It's far easier and more economical to change curtains, bed linen and rugs than replacing all the furniture with a new set. It might not be the most exciting but I have always gone for neutral colours like cream or white and accessorised around them.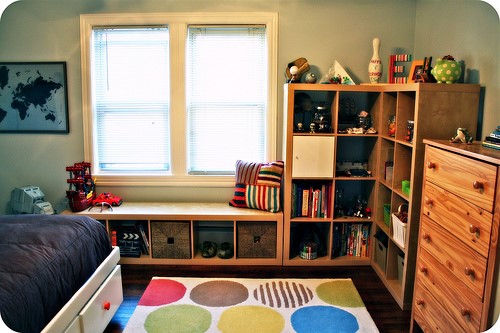 Space and storage is always an issue for parents, for us, the litte one needs lots of floor space to play, and we have storage chests for her toys, whereas the older one prefer less floor space (to hopefully create less clutter) and has a wall unit with all her essentials in.
i made the mistake of letting the eldest daughter choose her bedroom colour and she went for "sexy pink" (I kid you not) so guiding them towards a theme will help to give their bedroom a coordinated look and it could be inspired by any of their interests. There are some perennially popular themes, such as pirates, fairies or woodland creatures for younger kids, and bright, bold colours for older children. It really depends what your kids like – and what you like too, of course. Don't feel that you have to achieve a new-look room all in one go – in fact, in a way, it's nice for them to build on their room's theme by asking for accessories for Christmas or birthday presents.
So their bedroom maybe a design project for me but for the girls, it is so much more than that, it is a place that memories are created, tears will be shed, laughter will seep through the walls and friends will be made and lost. I always want everything to be perfect for them and you just live in hope that they'll love the fact that it's been done especially for them, and maybe they'll keep it tidy as a way of saying thank you!
Oh, well, we can all have dreams can't we?!